In 2022 we worked with Geotab to install 100 Go Rugged devices, adapters and harnesses on our  motorcycles and utility vehicles. We also introduced monitoring software to begin collecting and analysing data. This was the first time we deployed devices across the entire fleet.
Until recently Riders Lesotho used a paper-based system to collect information about health workers' trips, vehicle maintenance schedules and fuel. This low tech approach left much room for error and required considerable time to collect with paper forms taking up to six weeks to be returned and entered into our systems at head office. Drivers and riders simply relied on local knowledge for planning routes, estimating timing and anticipating incidents that might cause them to have to reroute, but this was often not accurate and caused unnecessary delays.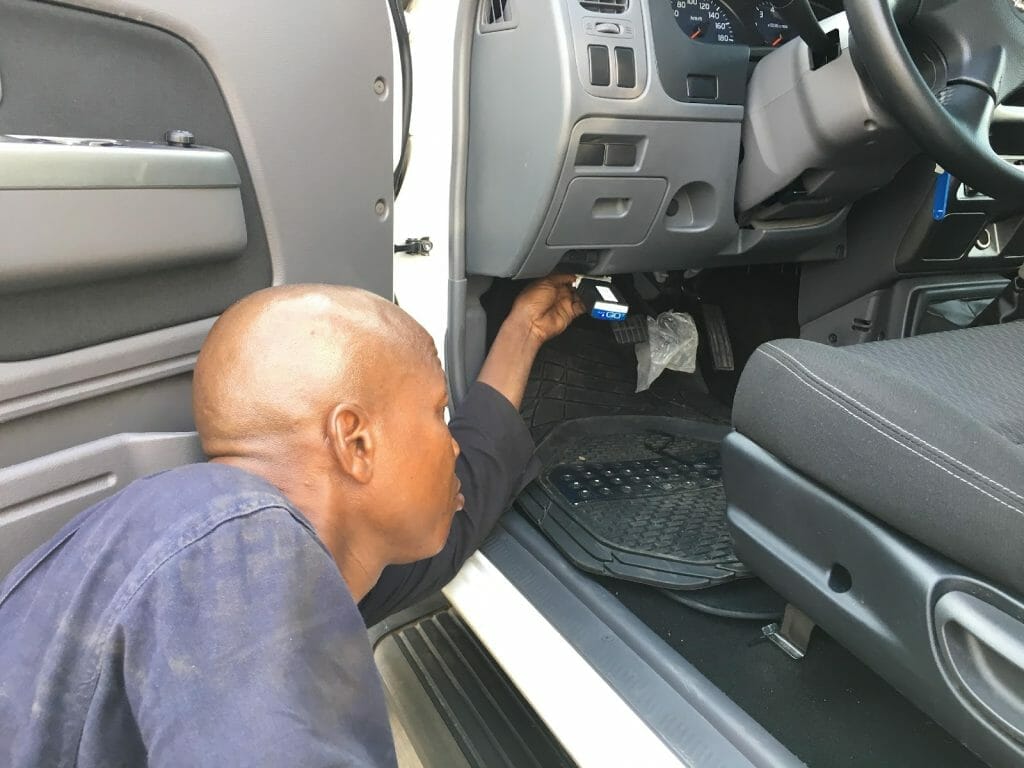 Reaching more people, safely and quickly
Riders employees often transport infectious substances such as samples of HIV, tuberculosis and COVID on their own. It is vitally important that we cant track where these high risk sample are at all times. We rely on route optimisation to keep riders and drivers safe, reach more people in a day and spend more time in communities when needed.
On top of keeping individual drivers and riders safe managing their routes and the speed at which they are travelling using GeoTab benefits the wider community. If we can ensure the health worker gets from point A to point B, and the sample transporter returns with a sample as quickly and safely as possible, then we can put a patient on to treatment faster. Being able to count kilometres is basic but it informs so many things. We know the distance travelled by the health workers and the use each vehicle gets, so we can move vehicles around as needed.
Enhancing effectiveness and efficiency and measure impact:
Riders now relies on Geotab solutions and software for:
• Route optimisation
• Managing vehicle replacement parts, fleet maintenance and servicing
• Tracking fuel consumption and idling
Managing environmental footprint and costs
As a social enterprise, Riders is committed to managing its environmental footprint and keeping costs down. We are working with budgets that are very tight, so reducing idling and keeping fuel costs down is very important.
It's been just over a year since Riders completed the installation of the devices in all of its fleet vehicles, and they are already starting to see how powerful this technology can be.
Increasing staff safety in remote locations
Being able to monitor vehicle movements in real time has come as a great relief for both the riders/drivers and office staff. Information accessed from the MyGeotab dashboard, such as speed monitoring and use of seat belts, is now included in staff briefings and training.
While they have always had a good reputation and employee retention is strong, the telematics devices have further enhanced the employee experience. Knowing that if there is any problem, you don't have to rely on a phone or get to the next village, someone will come to you, is a huge morale boost.
Expanding the use of Geotab
Due to the success of the Lesotho partnership, Riders for Health has carried out pilot studies in Nigeria and Malawi using the Geotab solution, and hopes to expand use to all vehicles in these countries and in The Gambia with the continued support of Geotab
Visit GeoTab's Case study about our work here